Double Sided Cloth Tapes
We are one of the leading manufacturers and suppliers offering a wide gamut of Double Side Cloth Tapes. These tapes are made using strong cotton cloth carrier, and are fabricated using rubber paste bonds that maintain the integrity of the bond. Further, these tapes are highly suggested by the experts for various industrial-mounting applications such as indoor carpet installation and carpeted stairways.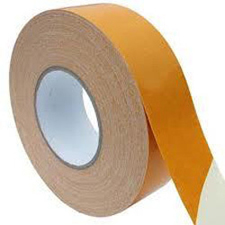 Double Sided Cloth Tape is used in flexo printing units and we have Sticky and Trinity brand high adhesion quality double sided tapes in all sizes and length. We have 12.5 mm ,25mm, 50 mm, 100 mm, 150 mm, and 300 mm width ready stock in paper release as well as plastic liner release. Our product is highly appreciated and can be used for 10 time if applied once.Rates are very competitive and quality is matching to international standard.
Some features are:
Great elasticity
Durability
Longer service life
Neat finish
Application Areas:
Mounting of rubber stereos in flexo printing
Carpet fixing in automotive/hotels and offices etc.